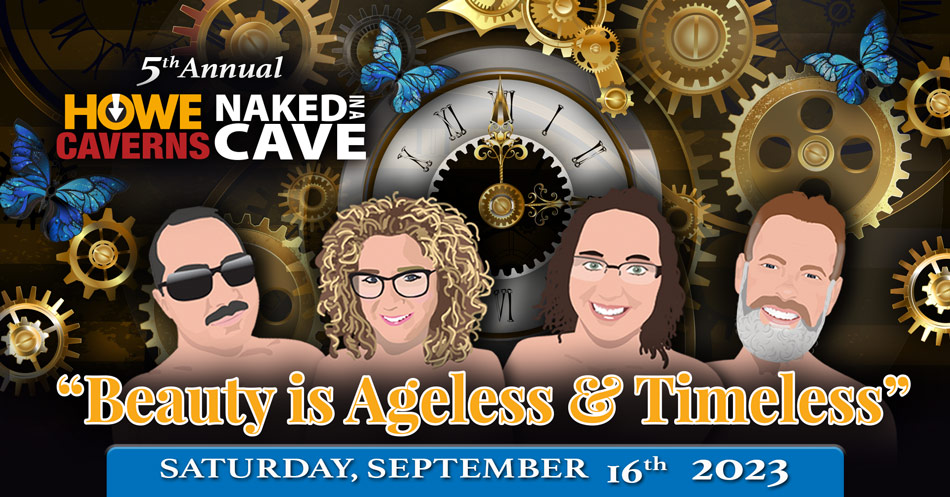 ARE YOU READY??? It's back!!!!!!
Join us, Saturday, September 16, 2023 for our 5th annual naked stroll in the cave celebrating body positivity.
This year's focus is Beauty is Ageless & Timeless.
"Ageless beauty means beauty that is timeless. There is meaning in celebrating humankind in all its forms, ages and stages. The only thing that remains beautiful is something that can touch one's heart." (Réhahn)
Tickets will be limited to 350 guests and they will sell out quickly! Tickets are $85.00 (plus tax) per person.
That price includes: 1 complimentary adult beverage (beer or wine) and a souvenir robe. This event is for age 21 and over ONLY! Reservations are being accepted now at 518-296-8900. Payment is due in full at the time of reservation. Tickets are non-refundable!
**Motel rooms are still available but they will sell out quickly**
Dinner is being offered before the stroll. There will be 2 seating times available for dinner: 4'30p or 6p. Seating is limited (60 person MAX per seating) and dining time must be selected at the time of your reservation.
All dinners include a mixed greens salad with house made creamy white balsamic dressing, bread, a choice of one entrée and one dessert, and a non-alcoholic beverage.
Choose ONE entrée:
Balsamic Chicken– $55 – Balsamic herb marinated seared chicken breast, roasted root vegetable medley, creamy garlic asiago polenta
FILET MIGNON- $75 – an 8 oz grilled filet, porcini mushroom port wine jus, potato gratin, sauteed broccolini
Oven Baked Cannelloni Pasta- $55 – Stuffed with Spinach, garlic herb roasted tomatoes, ricotta cheese, bechamel topped over tomato coulis, served with garlic toast
Choose ONE dessert:
CHOCOLATE- TBD
OR
NON-CHOCOLATE- TBD
*Plated dinners are available by reservation only and will not be available on a walk-in basis. No reservations for dinner will be accepted after Friday, 9/1/2023. Entrée choice and dessert choice must be selected at the time of reservation. There will be NO substitutions for entrée or dessert choice the day of the event. NO EXCEPTIONS!
**The Naked Stroll ticket without a meal, will be available for $85 (plus tax) per person. That will include: 1 complimentary adult beverage and your souvenir robe. All tickets are non-refundable.
Tickets are available now!
Please call 518-296-8900. Payment is due in full at the time of reservation.
Cool Cave Tours
Are you ready for a fun and affordable family day out? How about a vacation full of learning for all ages? Whether you live in New York and want to take a day trip, or you are driving through the area looking for a fun affordable family vacation, Howe Caverns is one of the most exciting NYS attractions. Your family can spend the day or several days in the park and experience Howe Caverns above and below ground!
Get ready to experience the most immersive escape rooms in the Capital Region. 
"The Cave" is the first of three high-tech escape rooms to open at Howe Caverns.
Do you think YOU know HOWE TO ESCAPE!?
The Ultra-Max penitentiary known as "The Cave" houses the most notorious criminal geniuses in the country. Built 15 stories underground, The Cave has the latest in cutting-edge escape deterrent technology deployed in the facility. Many infamous individuals have spent the waning years of their lives behind its triple-reinforced cell walls and state-of-the-art security systems. This distinguished clientele has resulted in multiple escape attempts, but none have been successful… until now! A motley crew of the criminal elite, led by maniacal mastermind, Stu "The Flu" Galopso, have done the impossible and breached the confines of their containment sector. Society's most dangerous and unpredictable fugitives are now at large, and only YOU can stop them!
Escape Room By Reservation Only