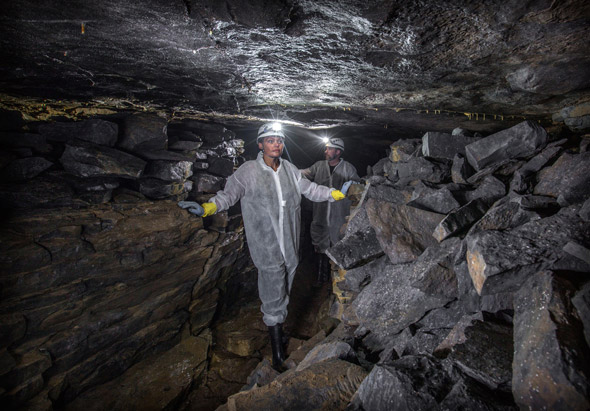 SIGNATURE ROCK DISCOVERY TOUR
ADVENTURE TOUR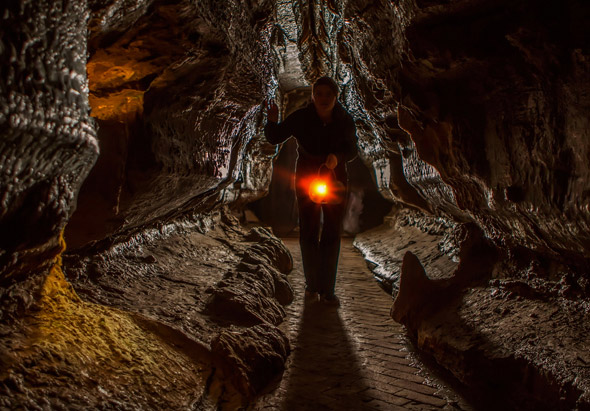 LANTERN TOUR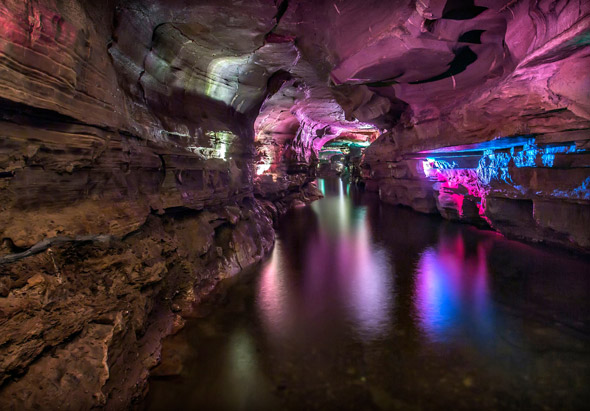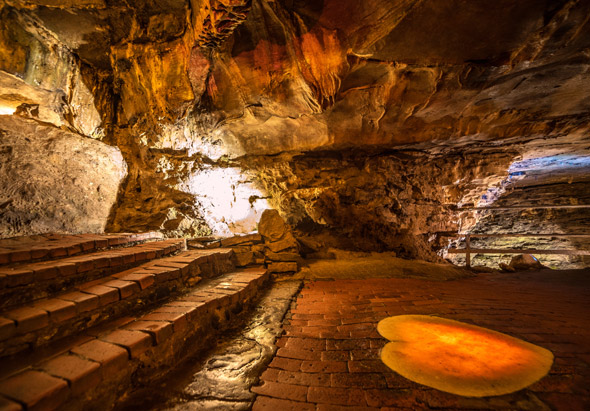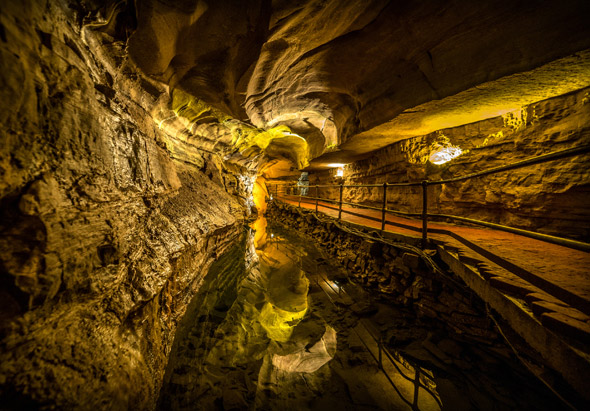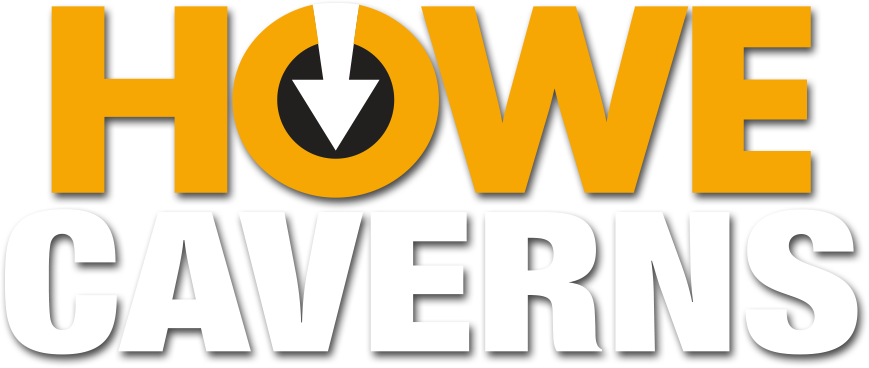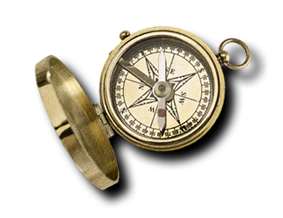 New York State's Second Most Visited Natural Attraction!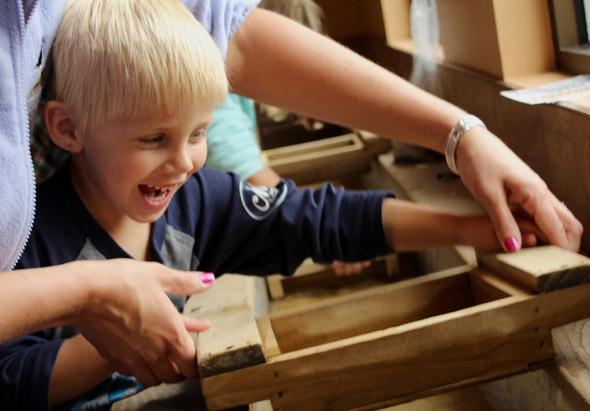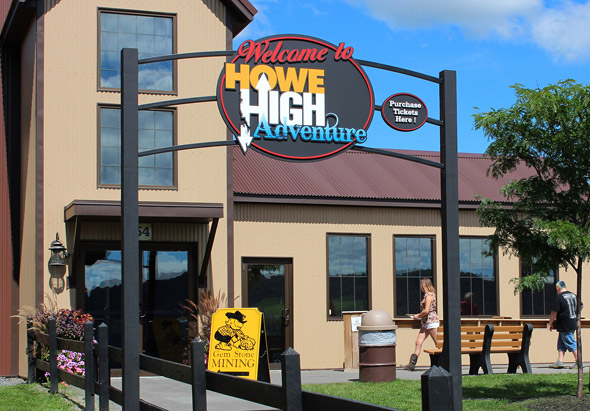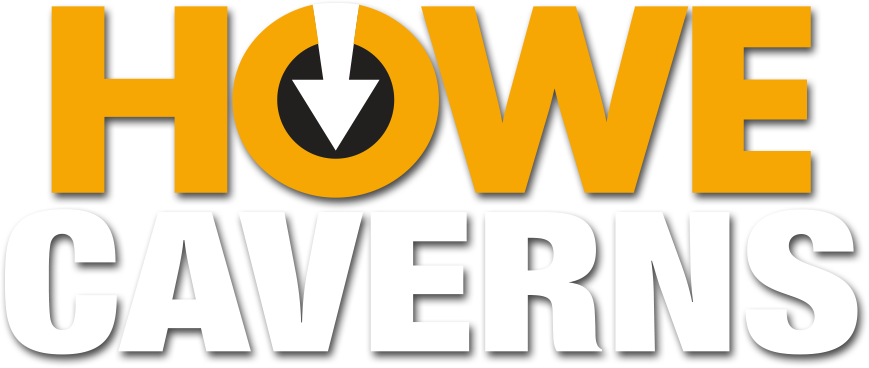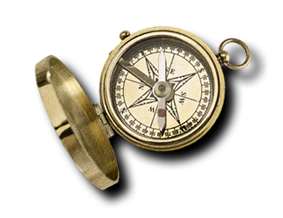 New York State's Second Most Visited Natural Attraction!

Lester Howe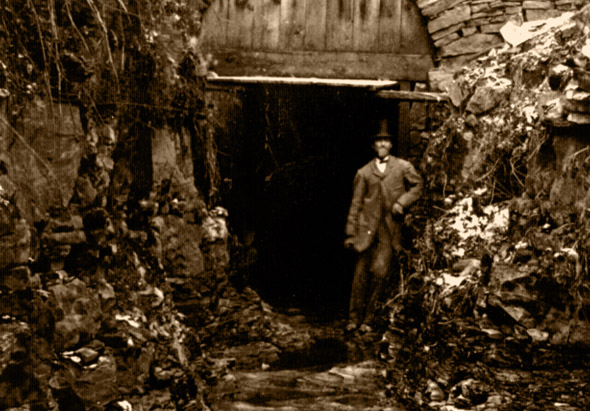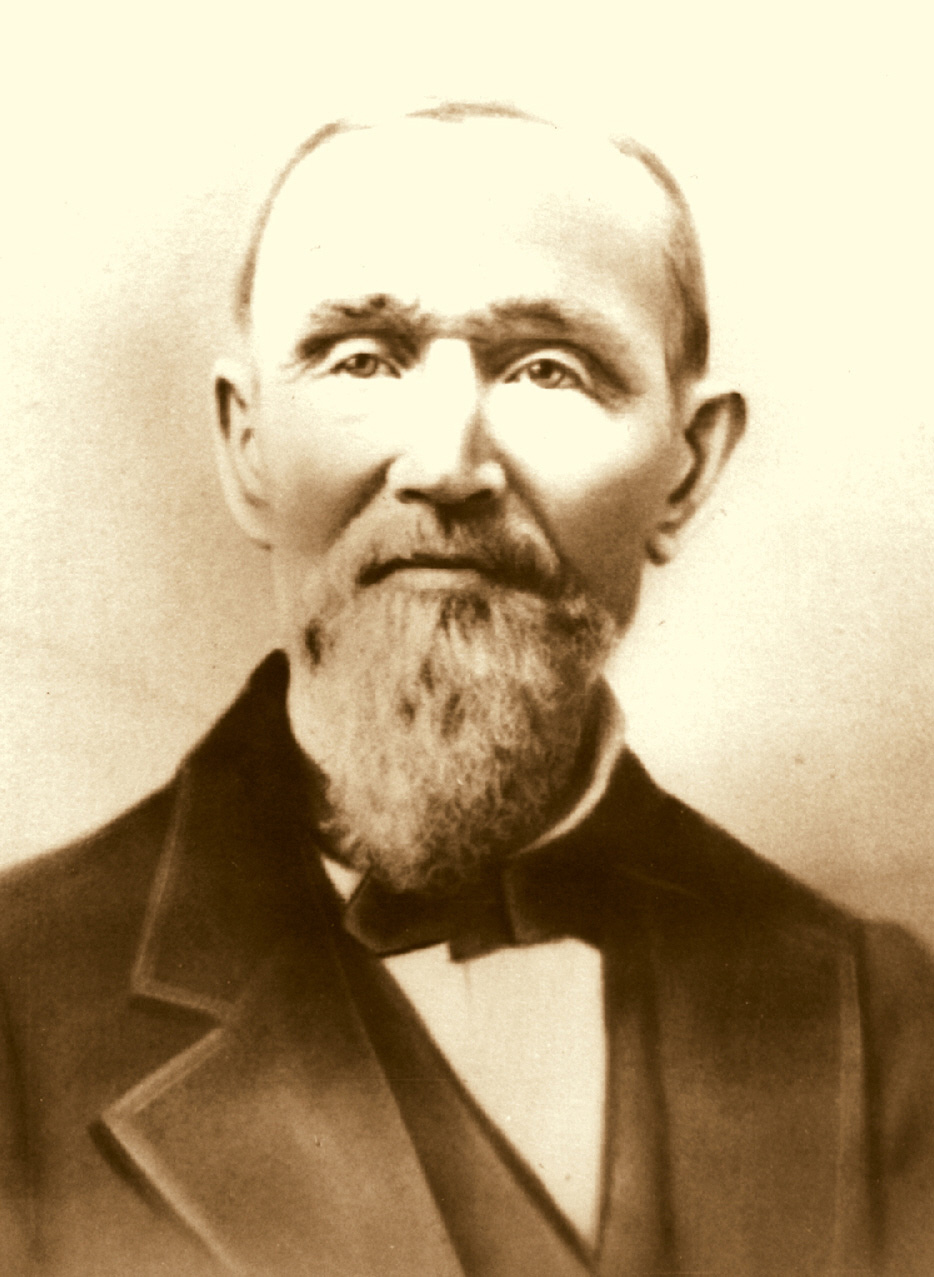 HISTORY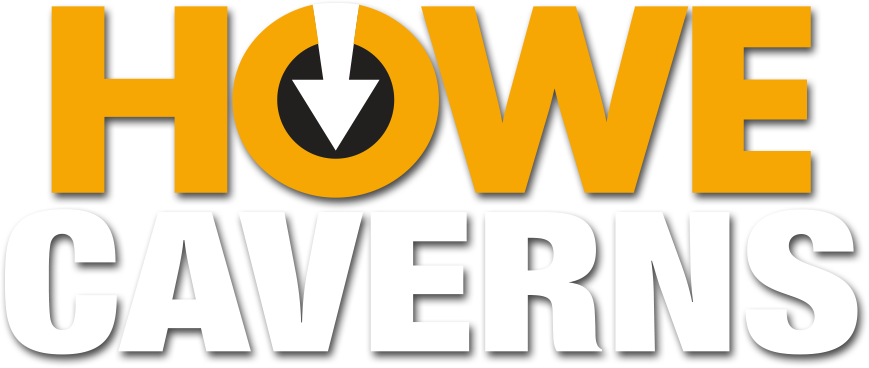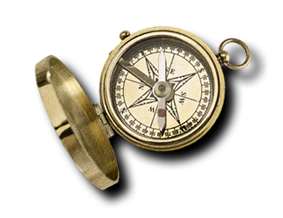 New York State's Second Most Visited Natural Attraction!
Howe Caverns Adventure Tours
**Adventure Tours will NOT be available for the 2022 Season**
Signature Rock
Discovery Tour
Finally, A Century Old Question Will Be Answered:
What's Behind Those Dam Doors?
Family fun destination Howe Caverns Adventure Park has unveiled its newest and "oldest" spelunking cave tour, The Signature Rock Discovery Tour. The 2.5 hour exploration tour reveals the mysteries of portions of the caverns that have not been open to the public in over 100 years.
We supply helmets, gear, and experienced tour guides. Finally! The answer to the century old question "What's behind those dam doors?".Climb over the dam and wade through the streambed to see our famous rock where Lester Howe carved his name over a century ago. This tour is geared towards those looking for a physical caving adventure.
Signature Rock tours will only be offered at 12pm, noon, 1 tour per day.
(Reservations Required)
Since 1900, the 1,200 foot section of the Signature Rock Discovery Tour has been closed to the public leaving Howe Caverns visitors perplexed and wondering what might be behind the "dam doors" at the furthest point of the Traditional Cave Tour. Opened to the public May 3, 2015, the Signature Rock Discovery Tour revealed the mystery behind the doors opening a new world of fascination, sights and memories for adventurous visitors.
The Signature Rock Discovery Tour is a 2.5 hour adventure, with visitors donning boots and helmets as they journey through the halls, tunnels and walkways of the original cavern discovery. Sights, lighting and sounds are dramatically different than what guests experience on the Traditional Tour.
The Dam: Installed in the early 1900's by Helderberg Cement Co. after 900 ft. of the cave was destroyed by mining for limestone.
The Old Boat:
The remains of Lester Howe's boat that he used for transporting visitors across the Lake of Venus.
The Music Hall:
The sound was said to echo better in this area than any other part of the cave system.
The Fan:
The Fan used to circulate air, provide air conditioning to the lodge (originally Howe's idea), and to prevent fumes caused by blasting at the quarry from entering the cave.
The Pipeline:
The pipeline is believed to have been installed by Howe himself. These were part of the efforts to improve the cave and increase business after the Civil War. One pipeline provided running water for the Cave House and the other provided the cave with gas lighting.
Congress Hall:
Named for its size and resonating qualities.
Gypsum:
Sparkling deposits that occur when limestone absorbs water. In the 1800s, gypsum was mined out of many caves for the production of gunpowder.
Franklin Avenue:
This is a long tall room with a seemingly bottomless pit on the left and the sound of rushing water echoing from below.
Signature Rock:
This massive flowstone formation, including hundreds of initials and notable signatures dates back to 1843– and is only revealed to those who visit*.
This tour is available May 1st through October 31st only.Guests must be at least 14 years old to participate.
Please plan accordingly and book early as space is limited!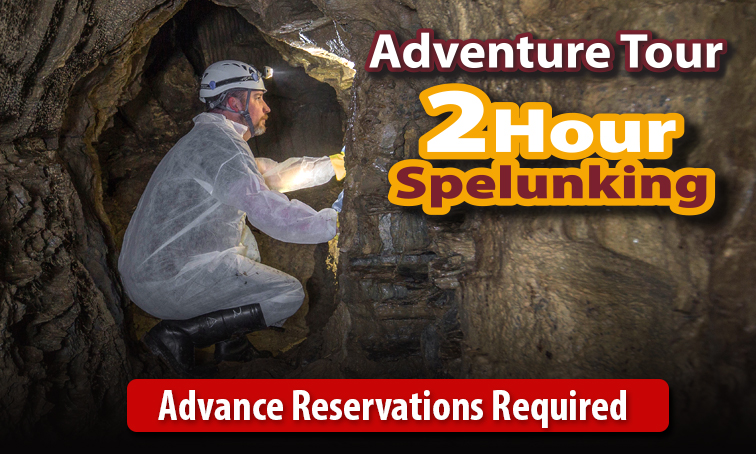 You Supply the Gumption,
We will supply the gear! You will be glad you have coveralls, gloves, boots, knee pads and a lighted helmet when you twist and crawl your way through this two hour, one of a kind, spelunking adventure with one of our experienced Howe Caverns guides. Your guide will take you through the Mystery Passage, across the dry underground stream bed and up to the Great Rotunda. The Great Rotunda is a 107-foot high, silo-shaped natural dome and is now reachable by visitors for the first time in more than 125 years.
(Reservations Required)
Please dress appropriately for maximum comfort during your tour. The cavern environment is a constant 52° Fahrenheit / 11° Celsius and 70-75% humidity, year round.
Tour Reservations can be made by calling Howe Caverns at 518-296-8900
Reservations Required. 48 Hours Advance Notice Needed for Cancellation
Please Note: When you call to make reservations the following information for all participants will be required – Height, Weight, Shoe Size & Helmet size (Lg/Sm)
You must sign the release and liability waiver (downloadable below) to go on the Adventure Tour.
You may download the release form to read prior to your tour, sign, and bring it with you.
A credit card is required to make reservations. Payment is due in full at the time of reservation
Adventure Tour rate will be charged at the time of the reservation
Due to limited availability, any cancellation must be made 48 hours prior to tour time for a refund. Notice provided less than 48 hours prior to tour will not be refunded.
The per-person charge includes rental of all outer wear (flashlights, coveralls, gloves, boots, knee pads and lighted helmet).
Adventure Tour guests also receive a souvenir and certificate memorializing their accomplishment.
No discounts are available for Spelunking Adventure Tours.
(No Online Tickets) Guests must be at least 12 years old to participate
Anyone under the Age of 18 needs to be accompanied by an adult on the tour.
Cool Cave Tours
Are you ready for a fun and affordable family day out? How about a vacation full of learning for all ages? Whether you live in New York and want to take a day trip, or you are driving through the area looking for a fun affordable family vacation, Howe Caverns is one of the most exciting NYS attractions. Your family can spend the day or several days in the park and experience Howe Caverns above and below ground!
Get ready to experience the most immersive escape rooms in the Capital Region. 
"The Cave" is the first of three high-tech escape rooms to open at Howe Caverns.
Do you think YOU know HOWE TO ESCAPE!?
The Ultra-Max penitentiary known as "The Cave" houses the most notorious criminal geniuses in the country. Built 15 stories underground, The Cave has the latest in cutting-edge escape deterrent technology deployed in the facility. Many infamous individuals have spent the waning years of their lives behind its triple-reinforced cell walls and state-of-the-art security systems. This distinguished clientele has resulted in multiple escape attempts, but none have been successful… until now! A motley crew of the criminal elite, led by maniacal mastermind, Stu "The Flu" Galopso, have done the impossible and breached the confines of their containment sector. Society's most dangerous and unpredictable fugitives are now at large, and only YOU can stop them!
Escape Room By Reservation Only
We Dare You!
Howe Caverns Haunted Cave Tour…This October!
Join the Keepers of the Cave (if you dare) this Halloween Season for the first totally immersive haunted tour – The Underworld at Howe Caverns. Venture 16 stories down to a world of creatures you were never meant to see and experience the haunted boat ride. Tours begin September 25th through November 1st. Get Your Tickets Online Now @ HoweScary.com! Tickets are Limited and Entrance is By Reservation Only. There are no up charges, no add-ons, no express passes needed! All tickets are fully inclusive and are sold for a set date and time so there are no long lines to wait in. And, the best part is that you never have to worry about bad weather, rain delays, or freezing temperatures since it's always 52 degrees in The Underworld. There are no walk-in spaces available so hurry to HoweScary.com today!
Not Recommended for 10 and under. 14 and under with guardian.