No Backpacks, Large Bags, Strollers, Food Or Beverages Allowed In The Cave.
Overnight Tour Packages
Get The Most Fun & The Most Value.
Howe Caverns works hard to provide you with the best possible vacation experience. To suit your needs and your budget, we have combined our cavern tours, lodging and dining options into a variety of vacation packages. Our long-standing relationships with other nearby NYS attractions allows us to expand the value and the fun of visiting Howe Caverns.
Tour & Stay Package
Check out our most popular package!
One night's stay at the Howe Caverns Motel. PLUS two adult tickets for the Traditional Howe Caverns Tour. PLUS ½ pound of our homemade fudge. PLUS one large bag of gem mining rough.
If you're looking for a unique NYS vacation, Howe Caverns is the place for you. Enjoy all the mystique a prehistoric underworld can offer, gemstone mining, a comfortable motel with spectacular views of the Helderberg Plateau, a café with a wide selection of menu items including homemade meals and desserts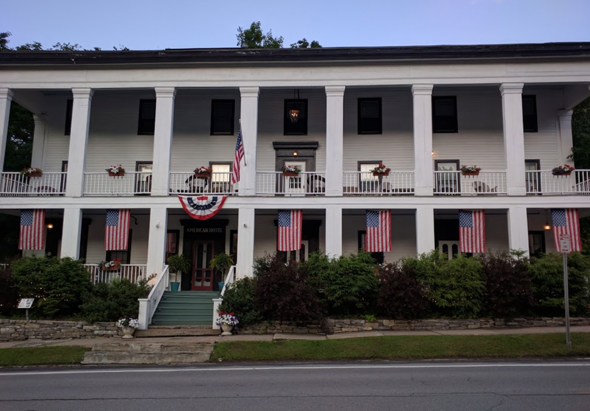 In the evening you will enjoy a unique dining experience at the America Hotel. Your package includes two complete dinners. Your meal includes appetizer, soup or salad, entrée, dessert and non-alcoholic beverage (gratuity not included). Alcoholic beverages may be purchased separately.
Sunday Family Flashlight Tour Package
Fun for the whole family. Take on an exciting and educational adventure. Explore a living limestone cave, carved by an underground river over the course of millions of years. A variation of our Lantern Tour with flashlights and head lamps for the kid! This tour is geared toward the younger family members and will entertain and delight them while they are learning about the earth.