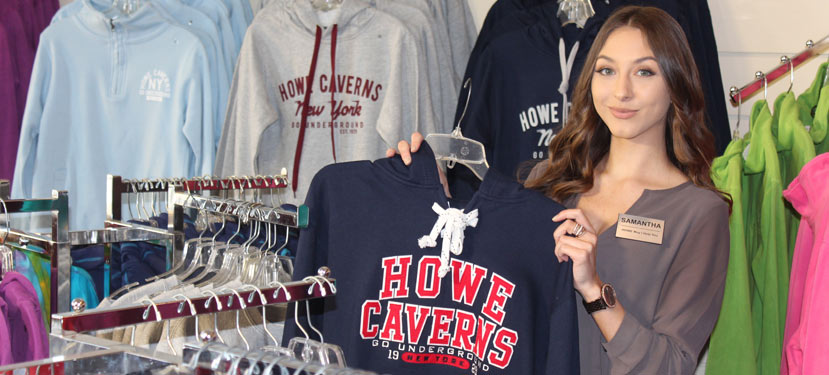 Gifts for Giving & Collecting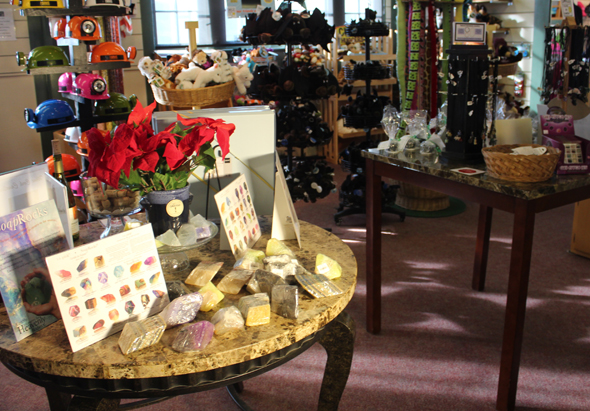 Before or after your tour, stop by the Howe Caverns gift shop! The Gift Shop is conveniently located in the lobby of the main lodge. Here you will find a wide selection of souvenirs and gifts for all ages.
You will discover locally made jewelry and a wide variety of rocks and minerals. You can find cathedral amethysts, as well as t-shirts, sweatshirts, hats and even miner's helmets!
Check out our rock related items from around the world…. stone plates, candle holders, bookends, beautiful onyx pieces and many other interesting wares may be found such as fossils and trilobites.
The Howe Caverns Gift Shop has something for everyone!
Cool Cave Tours
Are you ready for a fun and affordable family day out? How about a vacation full of learning for all ages? Whether you live in New York and want to take a day trip, or you are driving through the area looking for a fun affordable family vacation, Howe Caverns is one of the most exciting NYS attractions. Your family can spend the day or several days in the park and experience Howe Caverns above and below ground!
Get ready to experience the most immersive escape rooms in the Capital Region. 
"The Cave" is the first of three high-tech escape rooms to open at Howe Caverns.
Do you think YOU know HOWE TO ESCAPE!?
The Ultra-Max penitentiary known as "The Cave" houses the most notorious criminal geniuses in the country. Built 15 stories underground, The Cave has the latest in cutting-edge escape deterrent technology deployed in the facility. Many infamous individuals have spent the waning years of their lives behind its triple-reinforced cell walls and state-of-the-art security systems. This distinguished clientele has resulted in multiple escape attempts, but none have been successful… until now! A motley crew of the criminal elite, led by maniacal mastermind, Stu "The Flu" Galopso, have done the impossible and breached the confines of their containment sector. Society's most dangerous and unpredictable fugitives are now at large, and only YOU can stop them!
Escape Room By Reservation Only