Clear Bag Policy in Effect. See Details Below.
Cave Tour Pricing Page
Traditional 90 Minute Tour
The Traditional Tour is our most popular Tour – (Reservations Required)
Anyone age 16 and under must be accompanied by an adult age 18 or older. Tax is not included in price.
Active or retired military with ID – $15 plus tax
Veterans are 10% off their ticket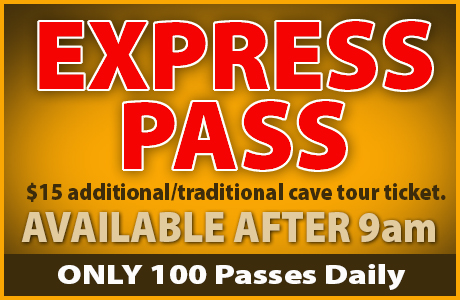 Don't have time to wait in line? 
Now you can get a Howe Caverns Express Pass for an additional $15 per Cavern Tour ticket purchased. 
Express Passes are for the Traditional Cavern Tour, purchased on site only. Limited to 100 per day.
Our Specialty Tours
Lantern Tour
$
45
00
Per Person, 16 or older
Family Flashlight Tour
$
45
00
Per Person, 5 or older
Photo Tour
$
55
00
Per Person, 16 or older
Our Specialty Tour – (Reservations Required)
These tours will give you a more customized tour of our cave. Tax is not included in price.
Our Adventure Tours
Signature Rock Discovery Tour
$
155
00
Plus Tax Per Person
Adventure Tour
$
125
00
Plus Tax Per Person
The Adventure Tours – (Reservations Required)
These tours are for the more adventurous and gives access to seldom seen areas of the cave. Tax is not included in price.
Group Tours
Looking for a New Adventure for Your Group?
We have the adventure that your group will remember for their entire lives! Howe Caverns' group tours are an awesome way to spend the day for students, youth groups, scouts, seniors and everyone in between. No matter how old or young you are at heart, the group tours at Howe Caverns can offer you a memorable day above and below ground. So if you're a teacher, scout leader, camp director, activities director or just the one who always organizes the fun, you definitely want to bring your group on a tour of the best attraction in NYS, conveniently located between Albany and Cooperstown.
Adult group tour rates are based on 15 or more adults in the group.
While group tour rates include tax, tax-exempt rates are available with advance reservation when one person purchases all tickets for the group and presents a valid tax-exempt certificate at time of purchase.
Group reservations are taken Monday through Friday from 9 a.m. to 5 p.m. Simply call 518-296-8900 to book your group.
Howe Caverns looks forward to welcoming your group to an exciting day of adventure.
Howe Caverns is a proud member of the National Caves Association, New York State Hospitality & Tourism and National Tour Association. And as far as we're concerned, the more the merrier! Bring your group, large or small and we will give you a day to remember!