Cave Tours Open: Fri. thru Sun. 10am to 3pm
Gift Cards Available to Purchase Mon. thru Sat. 9 am to 4pm. Please call! New Clear Bag Policy in Effect. See Details Below.
Welcome To Howe Caverns!
Keeping Adventure and Exploration Alive!
Discover all the fun you can have below ground in the Caverns, or above ground in the Adventure Park featuring a Zip Line, H2OGO, Ropes Course, Rock Wall and Air Jumper for all ages and abilities!
Are You Looking For A Unique Gift This Year?
Give The Gift of Adventure and Exploration!
We offer 6 Amazing Cave Tour Adventures OR Get Inspired at our NEW Glassblowing Studio and Create a One-of-a-Kind Treasure!
Just give our elves Nick and April a call at 518-296-8900 Monday through Saturday from 9 am to 4 pm to help you select something for everyone on your list! Let your friends and family experience the fun and excitement of Howe Caverns and Howe Glassworks!
We will help you create a custom gift card for just the right amount, that can be emailed to you for printing. If you prefer a gift card in the mail, there's a $7 shipping fee, but we will include a certificate for a free half pound of our homemade fudge to sweeten the deal.
So give the gift they will always remember and Make a Memory this Holiday!
If you ask anyone who has ever been they will tell you
"You Never Forget Howe".
Howe Caverns Tours
Are you ready for a fun and affordable family day out? How about a vacation full of learning for all ages?…
Howe High Adventure
Howe High Adventure is packed with fun, affordable, outdoor experiences for the entire family…
HC Mining Company
Purchase a bag of mining rough, and make your way to the water sluice. A water sluice is a trough of running water…
Latest Howe Caverns News
We're bringing the New Year in HOT!
Howe Caverns is excited to introduce our all new glassblowing studio featuring live demonstrations and hands-on workshops. Our anticipated opening date of the studio is mid-December 2018. Stay tuned for the launch of a new website dedicated to Howe Glassworks Studio for more information.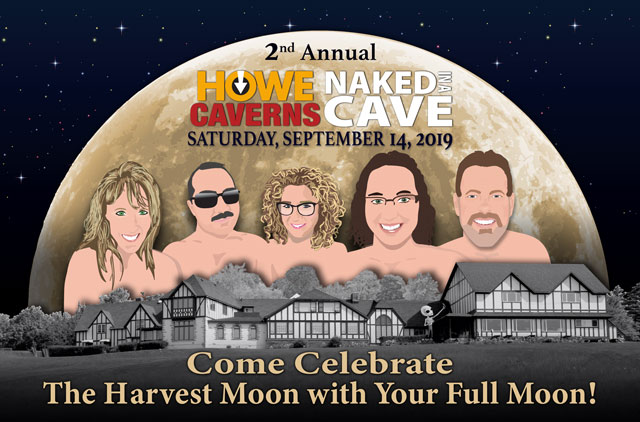 Mark Your Calendars! It's Back!
Join us for our naked stroll in the cave celebrating body positivity! There will only be 350 tickets available and they WILL sell out! Reservations are being accepted now at 518-296-8900. For updates and information, please Like & Follow our Naked In A Cave Facebook Page.
NEW CLEAR BAG SAFETY POLICY!
Howe Caverns has instituted a new clear bag safety policy that is effective immediately. Howe Caverns is committed to ensuring every guests' experience is second to none, and the safety of our guests is essential to maintaining this experience.
This safety policy impacts the type and size of bags that are permitted into the cave. ONLY CLEAR BAGS WILL BE ALLOWED IN THE CAVE. Guests may carry pocket items such as keys, phones, wallets and credit cards. Guests may also be permitted to carry a small clutch bag or purse approximately the size of a hand, with or without a handle or strap. An exception will be made for medically necessary items after proper inspection. Diapers and wipes can also be carried in a clear bag.
We appreciate your attention to this change in policy and look forward to your visit!