No Wheeled Devices, Food, Beverages (including bottled water) or Bags of Any Kind are Allowed in the Cave.
Welcome To Howe Caverns!
Discover all the fun you can have below and above ground!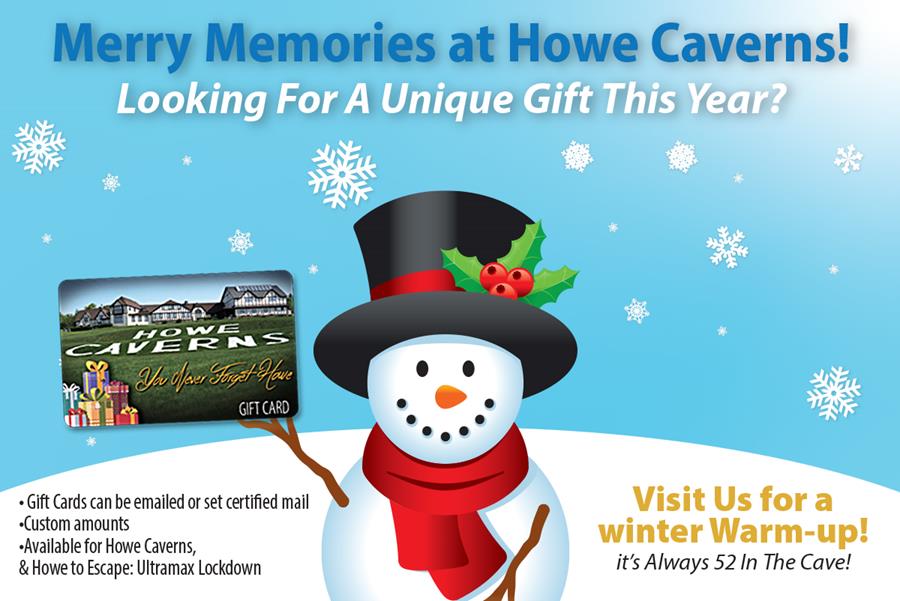 We offer 7 Amazing Cave Tour Adventures, OR see if you have what it takes to finish our Escape Room adventure, Ultra Max Lockdown!
Just give our elves Jessica and April a call at 518-296-8900 Monday through Saturday from 9 am to 4 pm to help you select something for everyone on your list!
Let your friends and family experience the fun and excitement of Howe Caverns & Howe To Escape!
We will help you create a custom gift card for just the right amount,
that can be emailed to you for printing.
So give the gift they will always remember and Make a Memory this Holiday!
If you ask anyone who has ever been they will tell you "You Never Forget Howe".
Howe Caverns Is Open
admin5
Howe Caverns Hours
Cave Tours
By Reservation Only

After Your Tour, purchase a bag of mining rough, and make your way to the water sluice.
Howe To Escape Hours
admin5
Howe To Escape Hours
Escape Room
By Appointment
Get ready to experience the most immersive escape room in the Capital Region…
In order to ensure the safety of all guests and employees, please read the following:
Tours will be by prepaid, non-refundable reservation ONLY. We will NOT accommodate walk-ins. Please call 518-296-8900 in advance to make your reservation for a tour.
Tour capacity will be limited. Our private tour option is available as always upon request.
Tours will run Wednesday-Sunday, from 9am-3pm. Tours are not available on Monday or Tuesday at this time.
All guests are required to wear a mask for the duration of their visit. If you do not bring a mask, they will be available to purchase in our gift shop.
Please be sure to arrive at least 15 minutes before your scheduled tour time. Tours are expected to sell out and we will be unable to accommodate you if you miss your tour. If you feel more comfortable with other protective items such as gloves, please bring them, as they are not available to purchase here. Please make sure to follow suggested hand washing methods, use hand sanitizer, avoid touching your face, and maintain safe physical distance from other parties. All children must be accompanied by an adult at all times.
Exposure to COVID-19 is an inherent risk in any public location where people are present; we cannot guarantee you will not be exposed during your visit. By visiting Howe Caverns, you voluntarily assume all risks related to exposure to COVID-19.
The CDC advises that older adults and people of any age who have serious underlying medical conditions might be at higher risk for severe illness from Coronavirus. People who show no symptoms can spread Coronavirus if they are infected; any interaction with the general public poses an elevated risk of being exposed to Coronavirus. Guests should evaluate their own risk in determining whether to attend. By attending, you are agreeing that you and your party:
Do not currently have a cough or shortness of breath
Do not have a history of chronic illness
Do not have a compromised immune system
Are not considered high-risk
Have not been asked to self-quarantine or self-isolate
Have not had close contact with an individual diagnosed with COVID-19 infection within the last 14 days
Again, the health and safety of our guests and employees is our number one priority. We thank you for your patience and understanding during this time, and we look forward to welcoming everyone back to Howe Caverns.