Fall Fun with a Haunted Cave Tour!

Winner of the Beastie (Bestie) Award for #1 Seasonal Event
This award winning family fun haunt is something so different, it is definitely one of a kind.
Go 156 feet underground and walk through our majestic but haunted cave where you will be immersed in several scary stories and interactive scenes that are sure to entertain, amuse, fascinate and scare. So if you are tired of the same old hay ride, zombies, and clowns with chainsaws, this is the year to go for a haunted cave tour and underground haunted boat ride!
Join the Keepers of the Cave (if you dare) this Halloween Season for the a totally immersive haunted tour. Venture 16 stories down to a world of creatures you were never meant to see and experience the haunted boat ride. Tours begin October 9th. Tickets are Limited and Entrance is By Reservation Only. There are no up charges, no add-ons, no express passes needed! All tickets are fully inclusive and are sold for a set date and time so there are no long lines to wait in. And, the best part is that you never have to worry about bad weather, rain delays, or freezing temperatures since it's always 52 degrees in The Underworld. There are no walk-in spaces available so hurry to HoweScary.com today!
Howe Caverns The Underworld, at Howe Caverns, is beyond honored to be recognized as the Best Seasonal Event for 2020 by Capital Region Living Magazine. A GREAT BIG THANK YOU to everyone who not only voted for us, but took the time to allow us to entertain you at our 1st annual Haunted Cave Tour. We could not have done it without you.
CREEPY SPECIALS
R.I.P. Package!
Too scared to drive after visiting our Haunt?
We have a place for your trembling and soulless body! All motel rooms discounted 10% with purchase of The Underworld tickets!
Please call 518-296-8900 to book our R.I.P. package now
For more information please call Bill or April
518-296-8900
or email reception@howecaverns.com today!
Creep says:

The only reason we were able to be recognized for this Beastie Award…I mean Bestie, is due to the incredible design crew and amazing actors who took on the part of the characters to entertain, scare and intrigue the more than 5000 people who were brave enough to attend.
Howe Caverns nabbed an impressive Bestie for Seasonal Event after hosting its first ever totally immersive haunted cave tour. The experience turned its beautiful show cave into The Underworld at Howe Caverns last fall, leading up to Halloween. Only the bravest entered a world of creatures, monsters, and demons 156 feet below the Earth's surface. The Underworld at Howe Caverns exceeded expectations in its first year, with sold out evenings and rave reviews. Now, the caverns' award-winning creative production team is already hard at work on the 2021 Underworld, which will run weekends in the month of October. Of course, Howe Caverns offers Traditional Cave Tours all year long, along with its state-of-the-art escape room, Howe To Escape!
Just Some Of The Fun Last Year!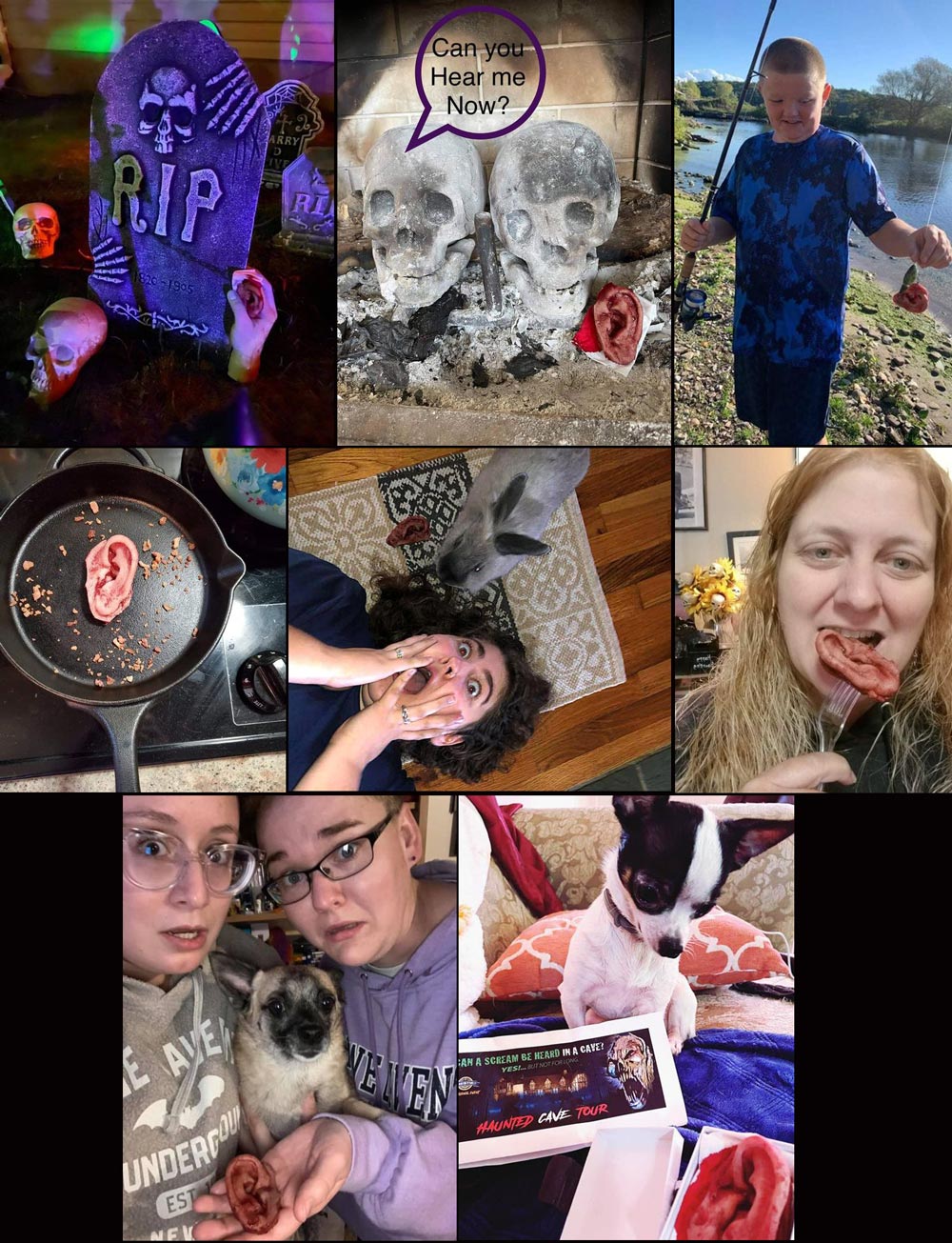 WARNING!
In order to ensure the safety of all guests and employees, please read the following:
Tickets for the Haunted Cave Tours must be purchased online. For questions, please call 518-296-8900.

Tour capacity will be limited. Parties may request their own elevator into the cave.

Please see the event calendar for available dates and times.
Please be sure to arrive at least 15 minutes before your scheduled tour time. Tours are expected to sell out and we will be unable to accommodate you if you miss your tour. If you feel more comfortable with other protective items such as gloves, please bring them, as they are not available to purchase here. Please make sure to follow suggested hand washing methods, use hand sanitizer, avoid touching your face, and maintain safe physical distance from other parties. All children must be accompanied by an adult at all times.
Exposure to COVID-19 is an inherent risk in any public location where people are present; we cannot guarantee you will not be exposed during your visit. By visiting Howe Caverns, you voluntarily assume all risks related to exposure to COVID-19.
Again, the health and safety of our guests and employees is our number one priority. We thank you for your patience and understanding during this time, and we look forward to welcoming everyone back to Howe Caverns.
This attraction reserves the right to refuse admission to anyone. You will experience intense audio, lighting, extreme low visibility, strobe lights, fog, damp or wet environmental conditions/including on brick walkways where it could be wet and slippery in certain areas, special effects and sudden actions. You should NOT ENTER this haunted house if you suffer from heart conditions, are prone to seizures, have physical ailments, respiratory or any type of medical problem, are pregnant or suffer any form of mental disease including claustrophobia. Also, if you are not able to walk approximately 1 mile and go up and down about 139 steps, you should also refrain from entering this haunt.
DO NOT ENTER the attraction if you are intoxicated, wearing any form of cast, medical brace, using crutches, or have any type of physical limitations. The cave is NOT accessible by wheel chair. Do not enter the attraction if you are taking medication or using drugs of any type. You will not be admitted if any of these conditions are noticed by our staff.
DO NOT ENTER: IF YOU SUFFER FROM – HEART CONDITIONS – SEIZURES OR ANY TYPE OF MENTAL, PHYSICAL, RESPIRATORY AND OR OTHER MEDICAL PROBLEMS.
DO NOT smoke, run, eat or drink inside the attraction. Additionally, there is no touching of the actors, customers, or props inside the attraction. No video or flash photography may be taken inside the attraction. You will not be admitted and asked to leave the property if any of these rules are not followed.
THERE ARE NO REFUNDS! ENTER AT YOUR OWN RISK! Holder of this ticket understands that there is an inherent risk involved with attending this attraction. Holder voluntarily assumes all risks and dangers associated with participation in this attraction. In consideration and acceptance of entrance into this attraction, holder agrees to release the operator, its parent corporations, affiliates, officers, directors and employees and landlord from any liability, harm, injury or death, cost or expense whatsoever that may arise directly or indirectly, from attending this attraction or any of the attractions at this location.
Again, if you violate any of these rules, or if you enter the attraction but decide you are too soft, too scared or too much of a cry-baby, and you want to leave without completing the event, you will not be given a refund. You will be lucky if you even get your soul back…which we probably acquired from you within minutes of entering this underworld!
Please Enjoy
Cool Cave Tours
Are you ready for a fun and affordable family day out? How about a vacation full of learning for all ages? Whether you live in New York and want to take a day trip, or you are driving through the area looking for a fun affordable family vacation, Howe Caverns is one of the most exciting NYS attractions. Your family can spend the day or several days in the park and experience Howe Caverns above and below ground!
Get ready to experience the most immersive escape rooms in the Capital Region. 
"The Cave" is the first of three high-tech escape rooms to open at Howe Caverns.
Do you think YOU know HOWE TO ESCAPE!?
The Ultra-Max penitentiary known as "The Cave" houses the most notorious criminal geniuses in the country. Built 15 stories underground, The Cave has the latest in cutting-edge escape deterrent technology deployed in the facility. Many infamous individuals have spent the waning years of their lives behind its triple-reinforced cell walls and state-of-the-art security systems. This distinguished clientele has resulted in multiple escape attempts, but none have been successful… until now! A motley crew of the criminal elite, led by maniacal mastermind, Stu "The Flu" Galopso, have done the impossible and breached the confines of their containment sector. Society's most dangerous and unpredictable fugitives are now at large, and only YOU can stop them!
Escape Room By Reservation Only