Howe High Adventure Is Closed
admin5
Howe High Adventure
Open Daily 12pm-5pm through Labor Day
weather permitting
Welcome To Howe Caverns!
Keeping Adventure and Exploration alive! Discover all the fun you can have below ground in the Caverns, or above ground in the Adventure Park featuring a  Zip Line, H2OGO, Ropes Course, Rock Wall and Air Jumper  for all ages and abilities!
Howe Caverns Tours
Are you ready for a fun and affordable family day out? How about a vacation full of learning for all ages?…
Howe High Adventure
Howe High Adventure is packed with fun, affordable, outdoor experiences for the entire family…
HC Mining Company
Purchase a bag of mining rough, and make your way to the water sluice. A water sluice is a trough of running water…
Latest Howe Caverns News
Howe High Adventure
Our Outdoor Park  Is Open
Memorial Day Weekend
Saturday, Sunday & Monday
12noon – 5pm – Weather Permitting
Howe High Adventure Is Open
Weekend in June
Daily July 1st – Labor Day
12 Noon – 5pm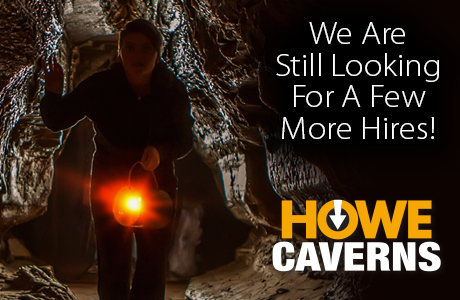 Howe Caverns still has positions available
for Howe High Adventure Park, tour guides, photographers, maintenance crew and retail shops. Come in and apply. Most applicants are interviewed on the spot.
In an effort to make your visit with us as enjoyable as possible, should you be planning a visit on the following dates, we encourage you to plan arrival after 12:30 p.m. due to prescheduled large group outings during the hours of 9 a.m. to Noon.
Dates;
May 31st – Wednesday
June 2nd – Friday
June 6th – Tuesday
June 8th – Thursday
June 12th – Monday
June 14th – Wednesday
June 15th – Thursday
June 16th – Friday
June 21st – Wednesday