Cool Cave Tours
Are you ready for a fun and affordable family day out? How about a vacation full of learning for all ages? Whether you live in New York and want to take a day trip, or you are driving through the area looking for a fun affordable family vacation, Howe Caverns is one of the most exciting NYS attractions. Your family can spend the day or several days in the park and experience Howe Caverns above and below ground!
Every tour of Howe Caverns starts with a 156 ft descent below the earth's surface…
Your journey will wind through limestone corridors, cavernous galleries, under massive boulders, until you discover a subterranean riverbed carved over countless millennia. Deep in the cave, solid rock appears fluid: creating strange formations, flowing sheets and dripping stalactites. Mysterious grottos lead off into distant, unexplored passages. Shadows hide secrets in deep cracks and crevices. The well-worn path twists and turns descending into the depths, downward to the glassy surface of an underground lake that trails off into the absolute darkness of the cave's Eastern Terminus… this is the Howe Caverns ultimate experience.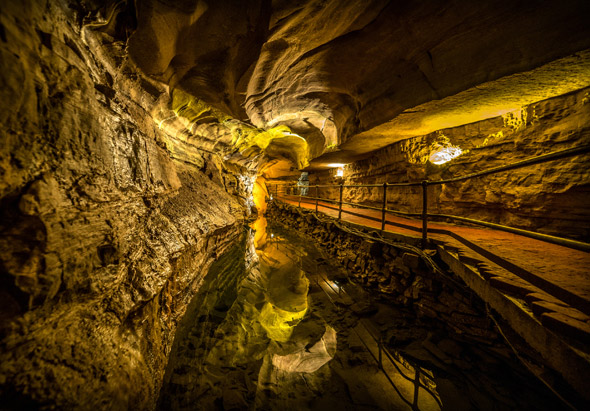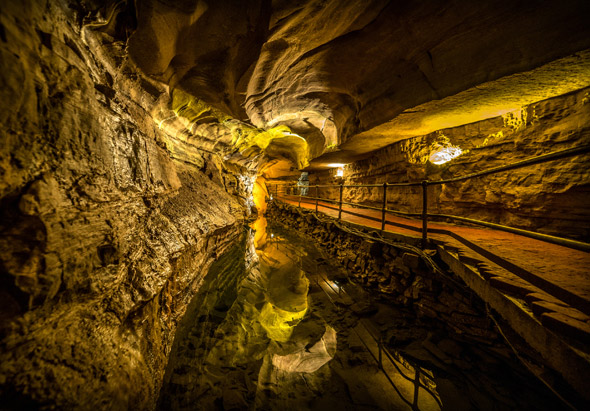 The Traditional Tour
Experience a 90 Minute Walking Tour with Boat Ride
Enjoy the experience, descending 156 feet below the Earth's surface to explore six million year old caves. Your 90 minute journey begins in Lester Howe's above ground study where Howe himself will regale you with the story on how he discovered this great cave system. Your experienced tour guide will then lead you down (in an elevator) to The Vestibule where your journey continues. Travel through the enormous main cavern, immense galleries and under huge boulders which hang precariously overhead. You will experience the mystique of the River Styx, the wonders of Titan's Temple and The Giant Formation on your journey.
Signature Rock Discovery Tour
Finally, A Century Old Question Will Be Answered: What's Behind Those Dam Doors?
Family fun destination Howe Caverns Adventure Park has unveiled its newest and "oldest" spelunking cave tour, The Signature Rock Discovery Tour. The 2.5 hour exploration tour reveals the mysteries of portions of the caverns that have not been open to the public in over 100 years.
Adventure Tour
You Supply the Gumption,
We will supply the gear! You will be glad you have coveralls, gloves, boots, knee pads and a lighted helmet when you twist and crawl your way through this two hour, one of a kind, spelunking adventure with one of our experienced Howe Caverns guides. Your guide will take you through the Mystery Passage, across the dry underground stream bed and up to the Great Rotunda. The Great Rotunda is a 107-foot high, silo-shaped natural dome and is now reachable by visitors for the first time in more than 125 years.
Get ready to experience the most immersive escape rooms in the Capital Region. 
"The Cave" is the first of three high-tech escape rooms to open at Howe Caverns.
Do you think YOU know HOWE TO ESCAPE!?
The Ultra-Max penitentiary known as "The Cave" houses the most notorious criminal geniuses in the country. Built 15 stories underground, The Cave has the latest in cutting-edge escape deterrent technology deployed in the facility. Many infamous individuals have spent the waning years of their lives behind its triple-reinforced cell walls and state-of-the-art security systems. This distinguished clientele has resulted in multiple escape attempts, but none have been successful… until now! A motley crew of the criminal elite, led by maniacal mastermind, Stu "The Flu" Galopso, have done the impossible and breached the confines of their containment sector. Society's most dangerous and unpredictable fugitives are now at large, and only YOU can stop them!
We Dare You!
Howe Caverns Haunted Cave Tour…This October!
Join the Keepers of the Cave (if you dare) this Halloween Season for the first totally immersive haunted tour – The Underworld at Howe Caverns. Venture 16 stories down to a world of creatures you were never meant to see and experience the haunted boat ride. Tours begin September 25th through November 1st. Get Your Tickets Online Now @ HoweScary.com! Tickets are Limited and Entrance is By Reservation Only. There are no up charges, no add-ons, no express passes needed! All tickets are fully inclusive and are sold for a set date and time so there are no long lines to wait in. And, the best part is that you never have to worry about bad weather, rain delays, or freezing temperatures since it's always 52 degrees in The Underworld. There are no walk-in spaces available so hurry to HoweScary.com today!
Not Recommended for 10 and under. 14 and under with guardian.